Dentures are a common procedure to replace missing teeth and restore mouth function. Contrary to belief, they aren't just for seniors – anyone of any age looking to replace lost teeth can benefit from dentures!
According to ADA.org, almost 90% of people who don't have teeth wear dentures in the US. This includes not only grown-ups but also kids. It's because they want to have better mouth health. Lots of people are getting dentures, and the number keeps going up.
As per stats provided by National Center for Health Statistics, about 15% of people who are missing one or more teeth get new dentures every year.
If you're considering dentures near the Modesto, CA location, learning about the process and what to expect can give you confidence. Let's look at who's eligible for dentures, the procedure, and the many benefits of getting dentures so you know what's involved.
Understanding the steps and outcomes can give you confidence as you move forward with this tooth replacement option.
What Are Dentures?
Before learning how to get dentures in Modesto, CA, let's understand what they are. Dentures are removable replacements for any missing teeth and surrounding gum tissues. There are two main types of removable dentures:
Complete Dentures – Replace all teeth in the upper or lower jaw when no natural teeth remain.
Partial Dentures – An option when only some teeth are missing in an arch and require little supplemental support. Partial dentures provide extra support.
Custom Dentures – Custom dentures are designed to fit your mouth perfectly, taking on the natural shape and color of your real teeth.
Overdentures or Snap-In Dentures – These dental implants keep your dentures in place, preventing movement during eating, yet you can easily snap them on and off for cleaning.
Implant-Supported Dentures – Dental implants in the jawbone can firmly hold dentures in position, enhancing stability and performance.
What Are The Benefits of Dentures?
Dentures can provide several potential benefits for those looking to restore their mouth's function:
Improve Oral Health – Dentures prevent further damage by filling in gaps from missing teeth that would allow food, bacteria, and debris to accumulate.
Improve Appearance – Replacing missing teeth can enhance your smile's look, boosting confidence and self-esteem.
Restore Function – Dentures improve the ability to speak, chew, and smile without uncomfortable or embarrassing gaps between teeth.
The specific benefits achieved will depend on each person's individual case and needs. But overall, dentures aim to bring back fuller mouth function and aesthetics.
Who Is a Good Candidate for the Denture Process?
The process for getting dentures is similar for most patients. But it's important to know who may or may not be eligible. The best candidates are generally those who have lost most or all of their teeth, yet have otherwise healthy oral conditions without any issues that could affect denture stability.
Those with good gum health and adequate bone to support the dentures tend to be suitable. Underlying conditions like dry mouth or bone loss may impact eligibility. Your Modesto dentist will assess if you're a good candidate.
In general, dentures work best for those missing multiple teeth but have the foundation to secure the dentures.
The Denture Process: How to Prepare for Getting Dentures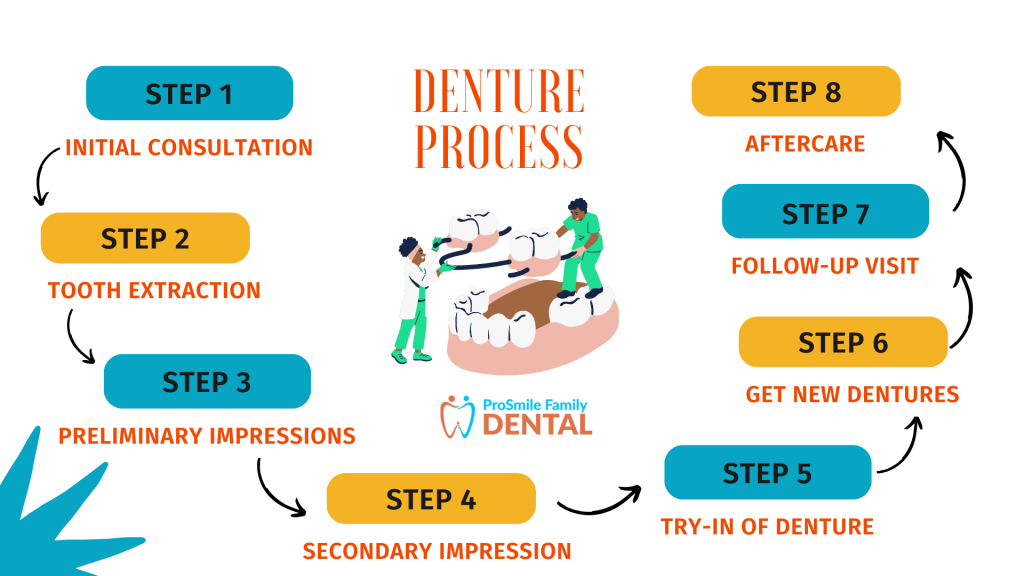 Here is a more detailed explanation of the steps when getting dentures for the first time:
Take time to find a dentist near you with whom you can trust and feel comfortable. Look for one experienced in fitting dentures. Check reviews online or ask friends, family doctors, and dental associations for referrals.
Schedule consultations to meet potential dentists in person before deciding. Choosing an experienced dentist is crucial for such an intimate, important procedure.
There are different types of dentures, including complete, partial, and implant-supported. Materials like acrylic, metal, porcelain, and flexible thermoplastic are also options.
Your dentist will examine your mouth and needs to advise which denture type and material is best for you. Ask questions to understand the benefits and drawbacks of each option for your situation.
Denture costs vary based on type, materials, and insurance coverage. Complete dentures range from $1000-$3000 per arch, partials $500-$1500.
Dental insurance may cover up to 50% depending on the plan. Additional costs may include extractions, fittings, relines, and repairs. Discuss budget and affordability openly with your dentist so they can find the most suitable denture option.
Having thorough, open discussions with your dentist you trust will set you up for success in determining the right denture solution in Modesto, CA. Take the time upfront to understand your options and choose what fits your dental needs and financial situation.
What Is the Process for Getting Dentures?
Getting dentures for the first time may seem scary. But with the right dentist, the process is very manageable. Knowing what to expect can make you feel more prepared and less worried.
When you're getting dentures, it involves a few important steps to make sure they fit well and feel comfortable in your mouth. Let's go through each of these steps to understand them better:
Step 1: Initial Consultation
Getting new dentures starts with an important first consultation with your dentist. During this appointment, your dentist will do a comprehensive evaluation of your teeth, gums, and mouth. This allows them to determine the best options for dentures tailored to you.
The dentist will explain the complete process for getting new dentures, so you know what to expect each step of the way. They will also discuss your dental and medical history, goals for your new smile, and lifestyle factors. This helps create a custom treatment plan just for your needs.
Your dentist will go over all costs associated with the dentures and have you sign consent forms and paperwork. The initial consultation appointment provides your dentist with all the crucial information needed to develop the optimal denture solution for you.
They will advise on the type of dentures – complete or partial dentures – that will be the best fit for you. This first meeting lays the foundation for crafting comfortable, natural-looking dentures made specifically for you. It's an essential step before moving forward with scans, impressions, or extractions for new dentures.
The first thing to do before getting dentures is to address any dental issues. It is often necessary to remove remaining unhealthy teeth. But, an extraction of all teeth at once can be overwhelming. So, tooth extraction is usually done in stages for your comfort.
The back teeth are often removed first and allowed to heal. Extracting front teeth is done weeks later. This spacing out extractions in phases:
Allows your mouth time to heal between sessions.
Minimizes swelling for better denture fit.
Is easier than removing all teeth at once.
Removing unhealthy teeth in phases makes the transition smoother. Your dentist will determine the best extraction timeline specific to your needs. Staggering the process results in a more comfortable fit and function for your new dentures.
Step 3: Preliminary Impressions
The first consultation for preliminary impression with your dentist is an important step. This 30-minute appointment is when they will:
Examine your mouth to determine the best denture options.
Discuss your goals for how you want your new dentures to look and feel.
Take impressions of your gums so custom trays can be made.
Advise on tooth shade and materials to suit your needs and budget.
Develop your treatment plan.
Bringing a friend for support and old pictures of your natural smile can help your dentist craft dentures that look like your own teeth.
If you choose immediate dentures, your Modesto denturist will coordinate the tooth extractions and same-day denture placement at this visit.
This first meeting for preliminary impression provides all the information needed to create natural-looking dentures tailored to you. We, at ProSmile Family Dental Care, give you a detailed treatment plan so you know what to expect at each appointment. Our team will guide you through each denture visit – starting with this important first consultation.
Step 4: Secondary Impression With Special Trays and Bite Registration
The second denture appointment for secondary impression is when your dentist will:
Take impressions using the custom trays made on your first visit.
Take a wax bite to see how your jaws fit together.
Create a wax trial denture to test the shape and fit.
Helps you select the tooth color and quality for a natural look.
This 30-40 minute visit is when we dial in the shape and look of your new dentures. Dentures today can look very realistic using advanced technology like 3D detailing, which mimics natural translucence.
With your input, your dentist will craft dentures with teeth that compliment your features and style. You'll get to trial the design with the wax model at this appointment before finalizing the details.
Step 5: Try-in of Denture
The "try-in" appointment is when you test your dentures made from the previous visit. This 20-minute fitting allows you to assess the shape, fit, tooth color, and overall appearance of the final denture.
It's crucial you address any needed adjustments to the dentures during this step. Speak up about shape, tooth shade, size, or other changes before finalizing.
The try-in lets you see how the dentures will look and feel in your mouth. Your input helps perfect the design and shape before the final set is crafted. We want you completely happy with the aesthetics and function before moving forward.
At your final denture appointment, your new dentures will be placed! This visit is typically 2 weeks after the try-in. When you receive your final dentures, your dentist will also provide tips on:
Caring for your new dentures – Proper cleaning and storage
What to expect – a period of adjustment as you get used to having dentures
Wearing instructions – When to wear them, using denture adhesives
Follow-up visits – Schedule any needed adjustments after placement
This final visit is when you'll walk out with your new smile! Your dentist ensures you have all the information needed to take care of your new dentures. Ask any other questions you have before you leave. With the right care and adjustments, your dentures will provide natural-looking teeth for many years.
Even if dentures feel strange at first, stick with them. With adjustments and daily wear, they will begin to feel more natural. We're here to help with any fit or comfort issues. Soon you'll have a beautiful new smile.
You'll have a follow-up denture appointment, which will start the day they are placed. At this visit, your dentist ensures proper fit and comfort.
They will check for:
Any sore spots or pressure points that need adjusting.
Correct alignment of your bite.
Proper fit against the gums and roof of your mouth.
Ability to insert and remove the dentures easily.
If necessary, the dentist will make adjustments so that your new dentures fit perfectly. Multiple fittings help customize the dentures to your mouth.
These follow-up visits are crucial to optimizing the comfort and performance of your new dentures. So, let your dentist know of any issues so they can be resolved quickly.
Getting regular dental exams is crucial for maintaining the health of your dentures and overall oral health. Attending yearly checkups allows your dentist to assess the condition of your dentures early and detect any issues before they worsen.
At your visits, your dentist will:
Check for irritation, sores, or damage.
Assess fit, comfort, and function.
Look for decay or other oral health issues.
Recommend any needed repairs or adjustments.
Clean plaque and bacteria from dentures.
Attending exams helps extend the life of your dentures. Repairs and relines can be done right away if needed.
How often you need checkups depends on your oral health?
Once a year is recommended generally
Smokers or those with medical conditions may need more frequent visits  
Schedule a dental check-up with ProSmile Family Dental Care. Our Modesto dentist provides optimum results with regard to denture cosmetics, comfort, fit, and function. Call us today and arrange your appointment for a time that suits you.
Finally, On Your First Day With New Dentures
Now that you've gone through the process of getting your teeth removed and have your first set of dentures, what can you expect from them?
Just like with anything new, it takes a bit of time to get used to them. Even though they are customized to your mouth, your gums, and jaw shape may change during healing. Tell your dentist if the fit feels off later on so adjustments can be made.
In the beginning, your mouth and gums might feel a bit sore, but don't worry – that's normal. As time goes on, you can start using a denture adhesive. It prevents slippage so you can chew and bite better without rubbing the gums.
Speaking, eating, and caring for dentures takes practice too. A few tips can help as you re-learn how to bite and chew. Denture cleaners make cleaning easier. With daily wear, your mouth will become accustomed to the feel.
Give yourself patience and time to adapt. Know that adjusting is a normal process. Our dentists in Modesto, CA are here to help with fit adjustments, irritation relief, and tips for living your best life with new dentures. Soon, your customized dentures will feel comfortable and natural.
Eating Tips For Your Dentures
Choose soft, easy-to-chew foods at first like eggs, fish, chopped veggies, and ice cream. This allows you to get comfortable slowly.
Take small bites and chew completely before swallowing. Rushing can dislodge dentures.
Avoid hard biting or chewing with front teeth which can loosen the dentures.
Spread food evenly around the mouth while chewing to stabilize.
Hot foods may take adjustments since your mouth senses temp differently now.
Avoid very sticky, chewy, or hard foods that could pull on dentures.
Speaking Tips With Your New Dentures
Read out loud while wearing your dentures to get used to speaking with them. Do this in front of a mirror or with a friend.
Bite down and swallow before talking. This helps appropriately set your denture in place for more explicit speech.
Speak slowly at first. With time, you'll adjust to the feel and be back to standard speech patterns.
If slippage causes mumbling, use a denture adhesive for stability.
Pronounce vowel sounds and repeat tricky words.
How Long Is the Denture Process?
How long it takes to get dentures depends on the type and quality.
With immediate dentures, you get a same-day tooth replacement when your teeth are extracted. This allows dramatic change without waiting.
High-quality, customized dentures that look natural take about 2 weeks in total. The process includes:
First impression appointment
Follow-up fittings
Processing time for the lab to craft the dentures
Final delivery and placement  
2 weeks allows time to get the shape, fit, and esthetics perfected for you. While immediate dentures provide quick replacements, customized dentures made over multiple fittings provide a more comfortable, seamless transition.
Talk to your dentist about which denture type and timeline works best for your needs. Whether the next day or over a few weeks, we'll make the process as smooth and effective as possible.
What to Expect With Dentures at ProSmile Family Dental Care?
Getting dentures is a big decision. At ProSmile Family Dental Care, we make you feel comfortable and informed each step of the way. Dentures can improve your smile, confidence, and dental health.
Here is what to expect when getting dentures with us:
Caring dentists will guide you through each part of the process.
We'll ensure your dentures look natural and fit comfortably.
Adjustments and follow-ups optimize the fit and function.
We use high-quality materials for durability and aesthetics.
Our goal is to provide a smooth, effective transition to dentures.   
When you're ready to learn more, schedule an appointment with our dentists in Modesto. We'll listen to your needs and customize a treatment plan. With our experienced team, you'll feel at ease getting quality dentures that restore your smile.
Start your Denture Treatment Now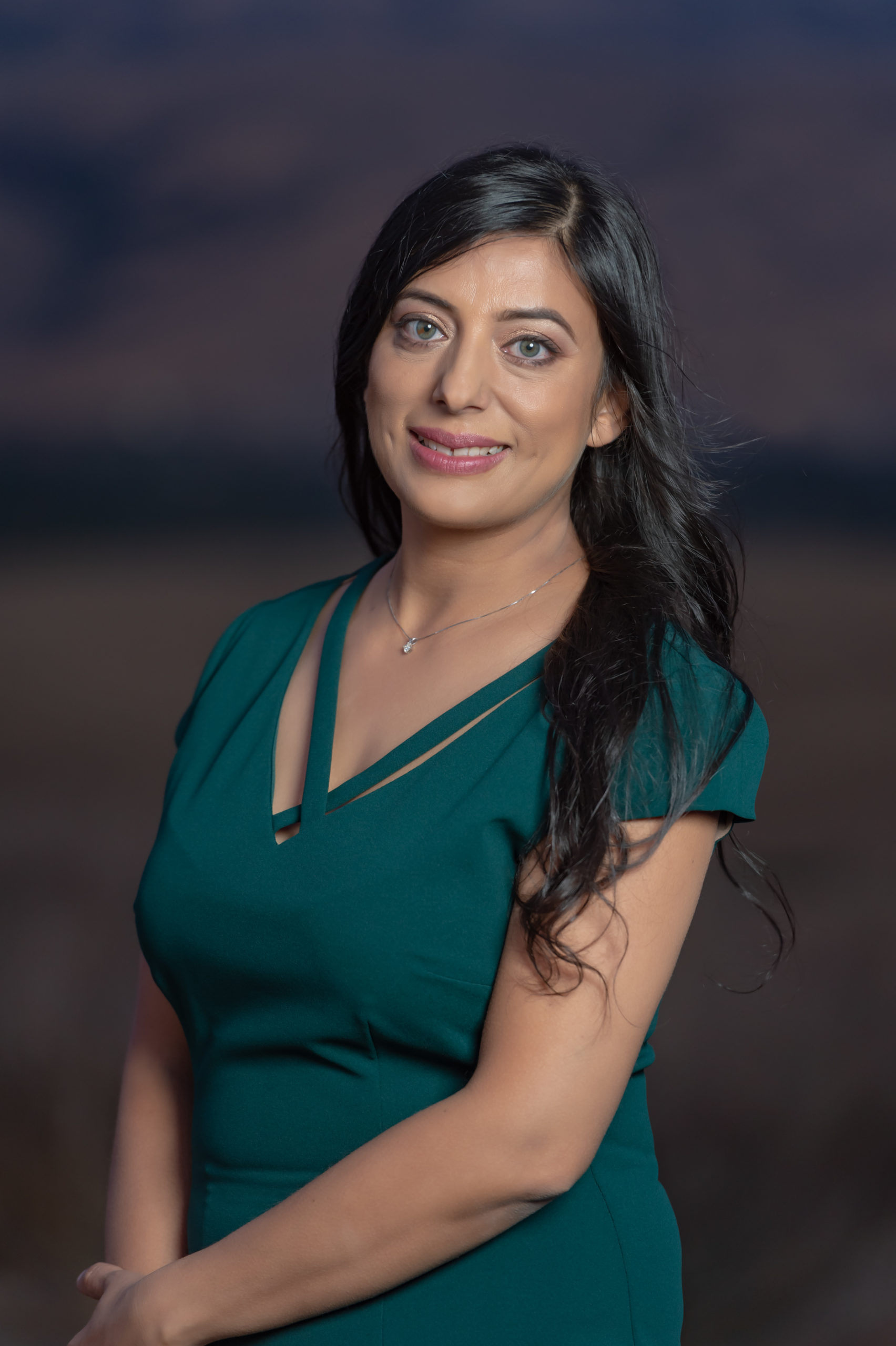 Dr. Pushpinder Sethi is a highly experienced dentist in Modesto, CA at ProSmile Family Dental. With a passion for providing exceptional dental care, Dr. Sethi specializes in a wide range of professional dental services, including Teeth Whitening, Tooth Colored Fillings, Denture Repair Service, and more. Call us: 209-422-6176 today to book your appointment and take the first step towards a healthy, beautiful smile